Noel Heimburg: 1976-2006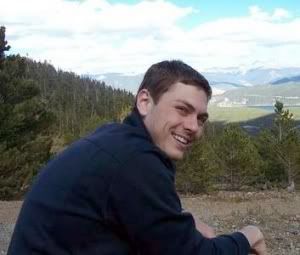 Today a family remembers a son, a father and a friend. A year ago an armed robber shot and killed 29-year-old Noel Heimburg on the stairwell of his Marina Landing apartment in Metro West. He died in his wife's arms, leaving behind a 9-year-old son and a devastated family. A year later, the crime remains listed as unsolved.
Since then members of Heimburg's family, especially his mother Patricia Small, have become staunch advocates of improving the safety of our city and combating the increasing crime rate. Small was present recently at the presentation of Gov. Charlie Crist's "Anti-Murder Act," part of a $21.8 million proposal designed to jail repeat offenders who violate their probation. Small also joined the Guardian Angels in early January. The family also held a blood drive last year in Noel's honor and set up a memorial website to remember him. Currently Patricia Small has become involved with the League of Women Voters and they plan to meet with our state senators in Tallahassee on March 18-19 to talk about juvenile justice. It is believed that the man that murdered Small's son was only 16-years-old. Small and a group of other mothers in similar situations plan on taking advantage of Governor Charlie Crist's open door policy and meeting with Crist, the head of the Department of Juvenile Justice Walter McNeal and Lt. Gov. Jeff Kottkamp to discuss the issue of juvenile justice. These are the efforts of a family that would see Noel remembered for the man and father he was, and to ensure his death not be in vain.
We all remember last year being the 'Deadliest Year' for Orlando and Orange County. By December 31st, 2006 there were 49 murders in Orlando, and 64 in unincorporated Orange County. Each one of those murders is someone's son or daughter, someone's mother or father; they are not statistics or mere numbers. Many of these cases sit shelved and unsolved. Many families are still without answers. Even the highly publicized case of Jennifer Kesse, the young former UCF student who disappeared last year, still has police left looking for answers.
What else can be done so that another family doesn't have to go through what the Heimburg's, the Kesse's and many other families have had to go through? Floridians by nature want more spending on crime and crime prevention yet aren't willing to deal with the tax cuts. We as citizens must be willing to accept a slight increase in taxes if we want our police force to be properly funded. Police forces are only as good as the manpower and money that is spent on them. An overworked, underpaid and understaffed police force is an ineffective one.
Just the fact that recent events have brought the attention of the Guardian Angels to our city sends chills up my spine. While I applaud and respect them for their pro-active efforts, I'm willing to bet that they wish their presence wasn't necessary, and the fact that it is should send a message to the city that it needs to tighten its belt and rein in the crime in Orlando. If that means upsetting a few taxpayers in order to fund the police force, hire more officers and fund enforcement programs, then so be it.
Noel Heimburg should not be forgotten, nor the score of other murders last year. Each one is a tragic and disappointing blight on our city and we can only hope that we don't have similar tragedies this year.
The Sentinel filed a story today on the further efforts of Patricia Small which includes an audio interview with Small where she talks about her son's murder and her mission to combat crime in Central Florida.
If you have any information regarding this or other unsolved cases, please call CrimeLine at 407-423-8477.
See the Florida Blood Center for information on how you can donate to those that need it.