Hitt Has Heart Attack.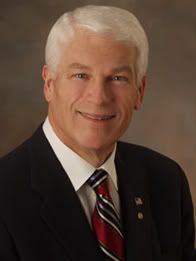 UCF President John Hitt suffered a heart attack Saturday night, as you may have already heard. The 65 year-old Tulane University alumuni is expected to make a full recovery and be back at work in no time.
What stood out in this little news story to me was this:
Hitt, a prodigious fundraiser, launched the university's first-ever capital campaign. In October, UCF's board of trustees was so pleased with the president's performance that it voted to give him a $50,000 bonus on top of his $361,000 salary.
A) Is it really necessary to tell us how much money he makes when the story is about his heart attack (that's my journalism education talking).
B) Holy crap he makes a lot of money!
I knew University presidents did well enough but I had no idea he did that well. That's more than the actual president makes (I think). Not only that, he gets a free pad near campus. Sweet gig man.
I mean really, how hard can it really be to be a University president? Oh I'm sure it takes a lot to get your foot in the door, but once you're in I imagine your underlings take care of most of the dirty work and all you have to do is be the public face of the University at academic dinners and meetings, sign stuff, and hand out diplomas.
Get well soon Hitt, and don't spend it all in one place.