Ron Jon Surf Park, Round Infinity.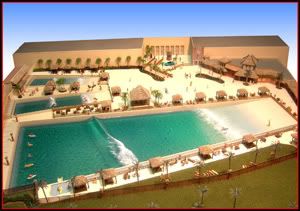 If any of you ever go out to the tail end of International Drive you'll know that it is occupied by the shopping center/mall known as Festival Bay. And, if you've ever ventured inside you'll know that it consists of Bass Pro Shop, the CineMark theater, Ron Jon, the Vans Skate Park, and a slew of stores that no one visits. The last time I went there I felt like the grand marshall of a parade walking by the bored and tired employees, their sad doe eyes following me as I passed beckoning me to come in and patronize. Okay that's a little dramatic but you get me, the place has very low attendance.
The Sentinel has an article today that lays out some of the changes and additions they will be making in order to try and increase occupancy. One of these additions is the famed Ron Jon Surf Park that has been in the works for years yet seems to keep getting delayed.
I've talked to surfers from all over, including up as far as the Carolinas, and most all of them seem interested in this surf park because it will be one few like it in the U.S. My question is, what would people be willing to pay for this little piece of intercoastal terraforming? Or better yet, does anyone out there know how much a membership is supposed to cost? EDIT: I found the pricing list.
Non-Member Rates:
1 Session: $59.95
3 Sessions: $169.95
5 Sessions: $224.95
Memberships can run from $450 to as high as $3000 annually depending on the level that you want. The level you get determines your priority and how many sessions are allotted. I don't know about you, but the beach is always free and the sunrise or sunset isn't near as nice in the middle of the Orlando sprawl.
Another question, this one for surfers and/or environmentalists out there: Is there any reason to oppose this thing? Are there any surfers out there that feel that perhaps this artificial reef takes something away from the randomness or sport of surfing and the thrill of the unpredictablity of nature?
I think, and I'm hoping that it will be a rousing success because Lord knows that part of International Drive could use some business.