Food Not Bombs Plan Rally for Homeless.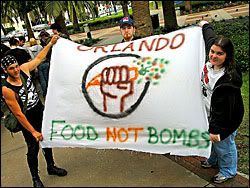 In an update to my previous post regarding the free food for the homeless issue, the organizing group Food Not Bombs plans to hold a rally on Monday outside City Hall. Around 2PM is when the city plans to be deliberating the ordinance and members as well as outside supporters are being urged to attend the meeting.
Even if the ordinance passes though, it only says that they must get a permit to feed more than 15 people and that no group or person can have more than two permits in any twelve-month period. If they could file the permits as individuals and not as the group Food Not Bombs, couldn't they continue to do the free food deal as long as they have enough volunteers? Considering they only do it once a week they'd only need 26 members to file for the permits each year. How much could the permits be? Surely the charitable Food Not Bombs wouldn't mind shelling out some dough for their cause.
Now I am not saying that I support the ordinance by any means, but there are ways to circumvent the rules in a peaceful and compliant way, you've just got to be crafty. I mean the ordinance will probably pass. Who are the City Council going to be more prone to listen to, a group that publicizes themselves as organized along anarchist principles or the wealthy business owners and residents that can contribute to political campaigns and pay more taxes? Not too hard to figure out.
I fully support what Food Not Bombs does, but they also have to understand the city they are doing it in. The city embraces helping the less fortunate, just as long as the less fortunate can't be seen outside their window.
Good luck.