Austin No More.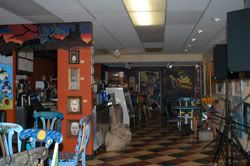 After only a little over 2 1/2 years of operation owner Joe Royall is closing the doors on Austin Coffee & Film. Next Wednesday, April 26th, will be the last day to buy some of the unique coffees and enjoy the laid back atmosphere of the inconspicuous nightspot.
Austin, located on a strip of Fairbanks that most people bypass in order to get to the more affluent downtown area of Winter Park, stood out as a offbeat place to catch some local shows, get a unique cup of organic coffee that wasn't Starbuck's, and perhaps carry on a conversation without having to scream above the usual din of similar watering holes. I mean where else these days can you grab an organic beer for $3 and watch some of the Independent Film Channel at the same time? Certainly not at Starbuck's or Panera I can tell you that.
An employee I talked to cited poor promotion of events and lack of interest just didn't bring in enough money to maintain the small establishment. It's a shame, as not only is a cool place closing it is in a way another example of the dying out of coffee culture and the lost of art of conversation. All across Europe and Central America patrons sit in cafés for hours, sipping strong java and discussing the events of the day, be they local news or world events. It seems that is a rarity these days, everyone is in such a hurry. They just want their double-tall, venti, soy, java-chip latte in a to-go cup and be on their way. Or, the other side of the spectrum, people just want a place to get blitzed and fall over–which is perfectly fine if that's what you're into. Still, it'd be nice to find some places that manage to have that happy medium, as Austin did.
So, coffee and film lovers, be sure to give Austin a good sendoff during its last week of operation. Drop by, see some kids hit up the open mic night(s), and buy a beer or some coffee while enjoying the relaxed atmosphere.
Another one bites the dust I suppose, looks like it's off to Starbuck's.
(Thanks to Ryan for the heads up.)