Creation-schism:..
Flying Spaghetti Monster Makes Orlando Weekly Cover!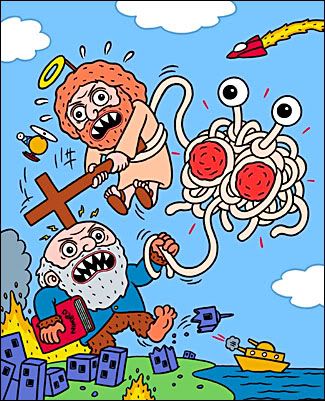 The intelligent design debate has been one of my favorite topics of discussion as of late. I am glad to see that our own alternative paper is bringing up the issue, especially in what is generally pro-creationism area. While the pastafarian movement is a tongue-in-cheek mythos, it addresses a serious issue. Is pushing Intelligent Design in school promoting science or just a sneaky way of shoe-horning religion into the public school system? Check out the story by Jeff C. Billman in the latest issue of The Orlando Weekly.
More information on The Flying Spaghetti Monster and pastafarians @ Wikipedia.